Laurel, Mississippi, the Lauren Rogers Museum of Art and "The Power of Color."
This spring, I visited my daughter Bridget Hayden, a professor of anthropology at USM in Hattiesburg. We went to nearby Laurel, Mississippi. Laurel is the capitol of Jones County, which once tried to secede from the Confederacy.

Laurel grew after the railroad came in 1881 and timber could be exported. As family members of the mill owners grew up and married, houses were built as wedding presents. Getting a house was a tradition, but the houses were always the very latest style, and incorporated the newest conveniences. Laurel's historic district is a product of the timber era (1893-1937), and is considered "the largest, finest, and most intact" collection of early 20th century architecture in Mississippi. There is a brochure available describing the houses and mapping a walking tour. https://downtownlaurel.com/tourism-travel/take-a-tour-of-laurels-historic-homes

The Lauren Rogers Museum of Art is in the home built for Lauren Rogers who died in 1921 at the age of 23. His family finished it and expanded it as a museum in his memory. It is Georgian Revival in style and features quarter sawn oak paneling, cork floors, and extensive iron work.https://www.lrma.org/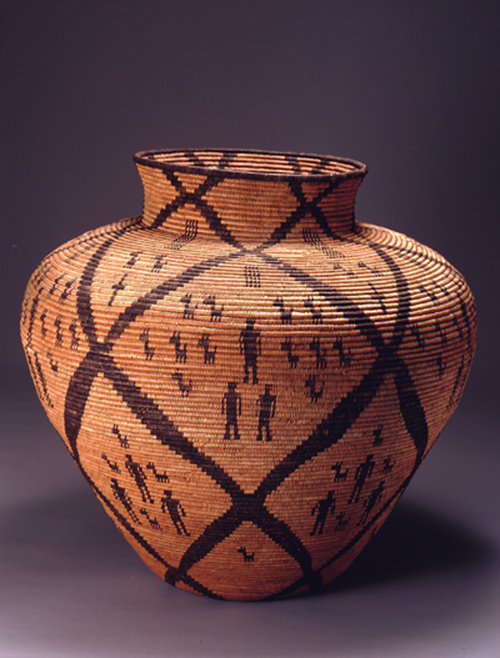 The most impressive exhibits are the Native American baskets representing 81 North American tribes, collected by Lauren Rogers's great aunt, Catherine Gardiner and donated to the museum in 1923. Very interesting are Japanese wood block prints and a set of blocks that illustrate the printing process. A collection of paintings by Mississippi artists was also on display.






On the lower level there was a traveling exhibition,"The Power of Color." https://www.lrma.org/exhibition/the-power-of-color/ It featured the work of three contemporary artists working in the south, who use strong color. I found it heartening that these artists have been able to make a life and a living for themselves in serious art, though they live and work far from the usual "art centers."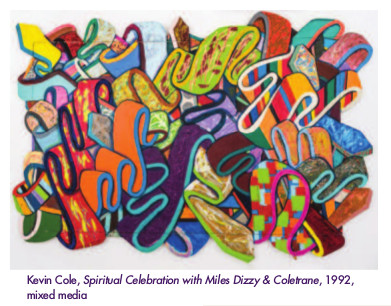 Kevin Cole of Atlanta, GA uses twisting and curling canvas, influenced by Frank Stella, which reference jazz and deal with traumatic events, both present and historical.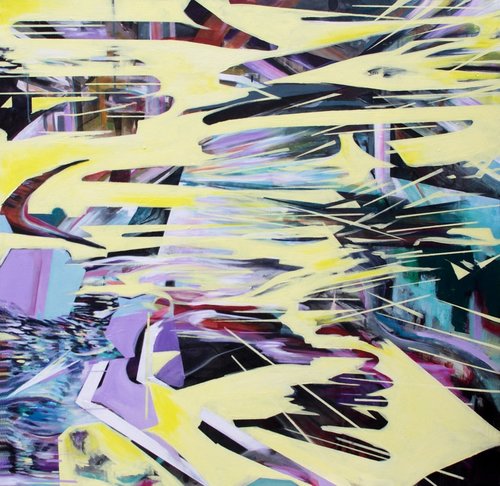 Sisavanh Phouthavong-Houghton, Agent Orange, oil, 48 x 48

Sisavanh Phouthavong-Houghton emigrated from Laos at the age of four. Through hard edges and strong contrasts of shapes and colors, she explores violent memories of her homeland. She lives, works and teaches in Kansas.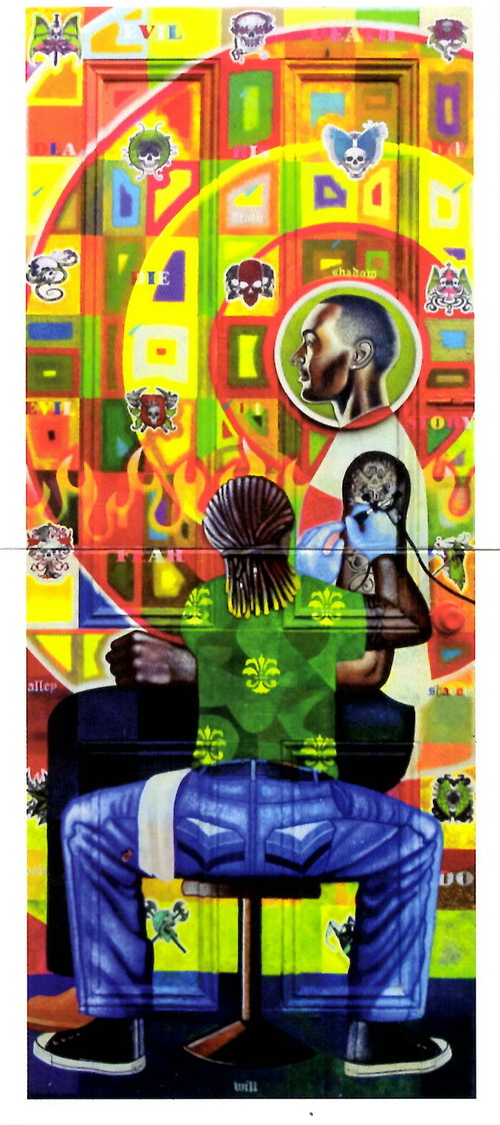 Carl Joe Williams, Yea Though I walk, mixed media on door,88 x 37

I liked best the work of Carl Joe Williams who uses materials found on the streets of New Orleans to create innovative mixed media works incorporating music and television to address social justice issues. His four paintings on doors are an impressive combination of painterliness with a sophisticated recall of 1930's realism that works well with his social messages.

The exhibition was beautifully displayed and was an exciting and unexpected addition to a nice afternoon spent in Laurel.











---
Go Paint!, Eau Claire, Wisconsin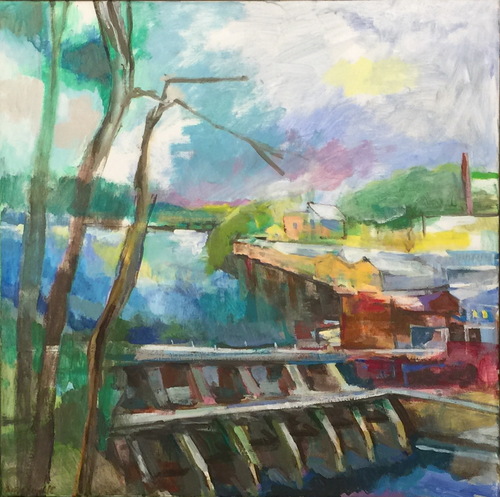 Dam at Eau Clair, Wisconsin, acrylic on linen, 28 x 30 Painting in 'Plein Air'


I like to paint outside. I dislike the term 'Plein Air' because it has come to signify a quasi impressionist style, but I do like to be outside and in the landscape. It can be demanding. It can be too hot, too cold, too much in the sun, people want to talk, someone parks a car in front of you, bugs bite, etc. etc. There is always a time limit because the light will change. All of these situations add an urgency that can be absent in the studio, and which lends excitement and spontaneity to outdoor painting.

Landscape requires great simplification. Order must be made out of chaos. There is no way to "get" all of it, and really seeing it is about making choices. It is the space, the movement and the light that I am after, not verisimilitude.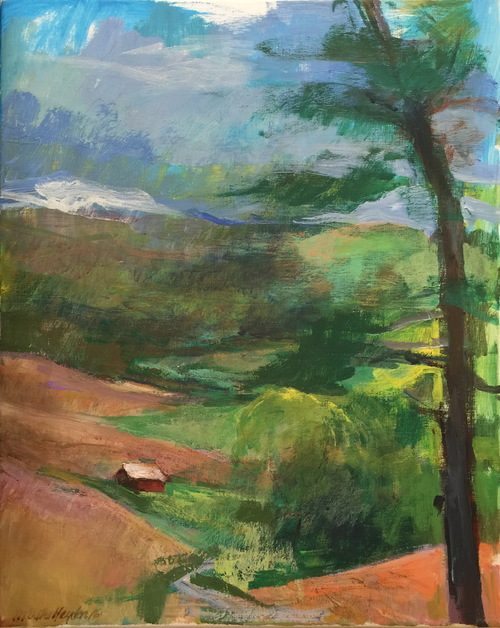 Near Durand, Wisconsin, acrylic on linen, 20 x 16


This year, I am pleased to be doing two 'Plein Air' events with my daughter, Mary Kathleen Lynch. Mary Kathleen started to paint when she was in high school, and has been working hard at it the last few years. She has a different aesthetic and is developing an attention to detail approach.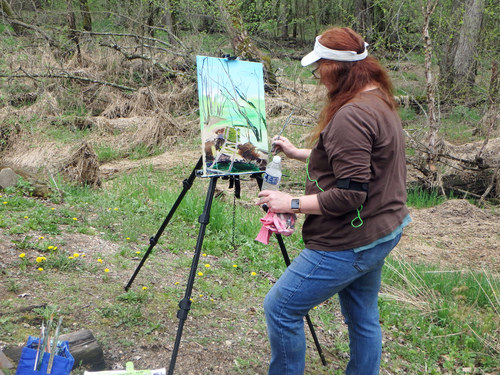 There are lots of Plein Air events in Wisconsin, and although I really don't approve of 'competitive' painting, they can be fun to do. It's nice to be with interested people, and it is easier to set up with a group; one is less exposed to unwanted attention. Usually the organizers stamp the backs of blank canvases to insure they are actually painted from nature and on site, and there are time limits and designated days to paint. At the end, the works are displayed locally and people are encouraged to come and look and buy. It can be pleasant for the painters, fun for the spectators, and helps to make people more aware of painting and what is involved in producing it.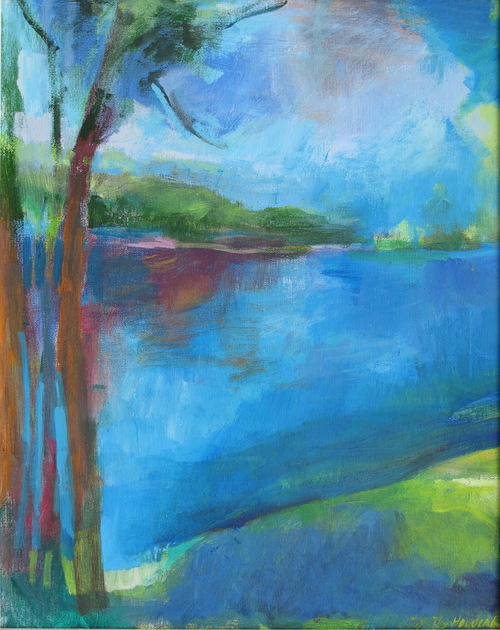 The

Chippewa River at Durand, WI, acrylic on linen, 20 x 16

"Go Paint' this year took place in Eau Claire, Wisconsin and surrounding areas. The landscape is rolling, with rivers and dams, farms and sandstone rock outcroppings. One of the perks is a miniature train ride into the Chippewa Flowage Tiffany Natural Area , organized by Jean Accola of the Accola Gallery in Durand and The Chippewa Valley Motor Car Association, which restored and maintains the right of way on 14 miles of track abandoned in 1977. http://chippewavalleymotorcarassociation.ellawisc.com/history.html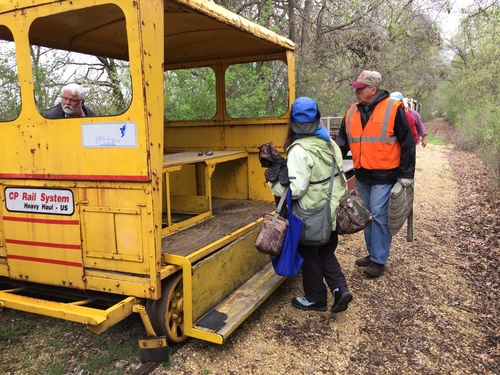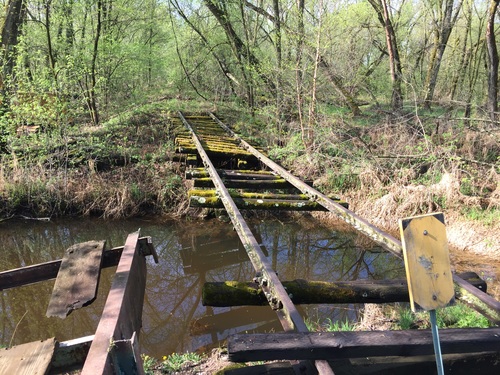 It is a birders and painters wonderland. https://midwestweekends.com/plan_a_trip/nature/birds_wildlife/birding_tiffany_wildlife_area.html We were dropped off at the end of the line, and picked up again 3 hours later. I am proud that my daughter made a painting there that won an award in the concluding exhibition.
The works are being shown at the Eau Claire regional Art Center's Janet Carson Gallery, at the State Theatre in downtown Eau Claire. Until August 17.

---
Viscoscity Printing
Color viscosity printing incorporates many printmaking techniques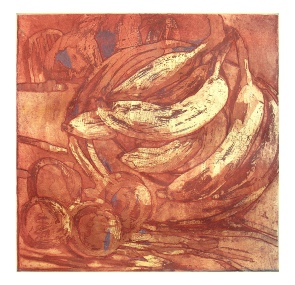 Viscosity printing is a multi-color, fine art printmaking technique that incorporates principles of relief and intaglio printing. It is based on the principle of viscosity (the characteristic of a fluid to resist flow) to print multiple colors of ink from a single plate, rather than relying upon multiple plates for color separation.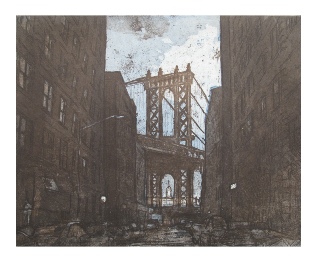 .

Intaglio prints are created from metal plates, either scratched into or etched with acid. I force a viscous ink (about the consistency of oil paint) into grooves, scratches, etched lines or indentations that I create with a variety of etching tools. I then wipe the polished surface clean using a loosely woven cloth, followed by newsprint, leaving ink only below the plate level. After covering the plate with a dampened paper and felt blankets, I run it through a press where great pressure (approximately 8 tons per square inch) pushes the paper down into the engraved or etched grooves to pick up ink. In intaglio we see printed the ink that was below the surface of the plate and is now embossed on the paper. For a two color print, two plates are used and the print is run through the press twice.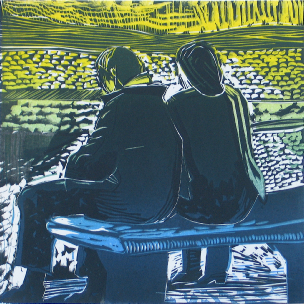 In contrast, to create relief prints, linoleum cuts and woodblocks, I cut away from the plate what I don't want to print, and roll ink over the remaining high parts of the plate.
Developed by Stanley William Hayter during the late 1960s, Color viscosity printing is among the latest developments in intaglio printmaking. Using variations of this technique, I start by making a multilayered plate, much deeper than a normal etching. The plate is made of metal (I use zinc), as in the intaglio processes, and normally requires very long acid baths. To get around this, I began to construct collagraphs.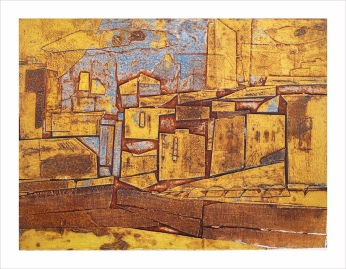 In collagraphy, a variety of materials are applied to a rigid underlying layer (such as ragboard or masonite). The word is derived from the Greek word koll or kolla, meaning glue and graph, or the act of drawing. I begin by making collages of cardboard, pasted paper and other textures. I can ink the resulting plate as an intaglio, or with a roller or paintbrush, or some combination of these. The resulting print is termed a collagraph. Substances such as acrylic texture mediums, sandpapers, cloth, string, or cut cardboard can all be used in creating the plate. Collagraphy is a very open printmaking method. Ink can be applied to the upper surfaces of the plate with a brayer for a relief print, or ink can be applied to the entire board and then removed from the upper surfaces, leaving it in the lower spaces, resulting in an intaglio print.
Martha Hayden
---
Martha Hayden exhibits at 1014 Locust, St. Louis
Goose Eggs, 1975, acrylic on linen, 43 x 40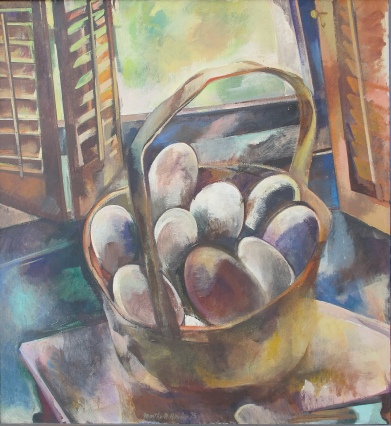 My work is an extension of Cezanne and of cubism. I was influenced very much by Hans Hofmann as were many painters who came of age in the 1950's. Hofmann's work became nonobjective, but although my approach is abstract, in the end I want the work rooted in reality.

Roots, 2005, oil on linen, 20 x 24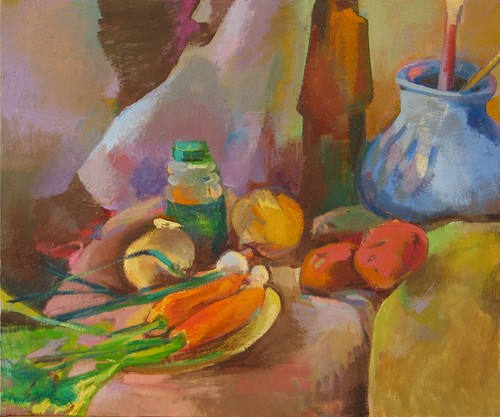 I try to work as if I've just arrived from Mars. I try to see as if I have never seen anything before, and everything is new. I try to have an "innocent" eye. I try not to preconceive. That requires seeing everything at once and seeing nothing for itself alone.



The School Room, 1976, acrylic on canvas, 42 x 50
This is about warm and cool. There is a diagonal balance between warm and cool, culminating in the view out the window. Within each over all color, there is also a balance of warm and cool. Warm browns and cool browns, warm blues and cool blues work together to make the plane of the floor, the plane of the seats, the plane of the desk tops and book, and the opening to the outside. The green shapes on the left (window frame and outside) stabilize the composition.



Memorial Day, 1969, acrylic on linen 46 x 40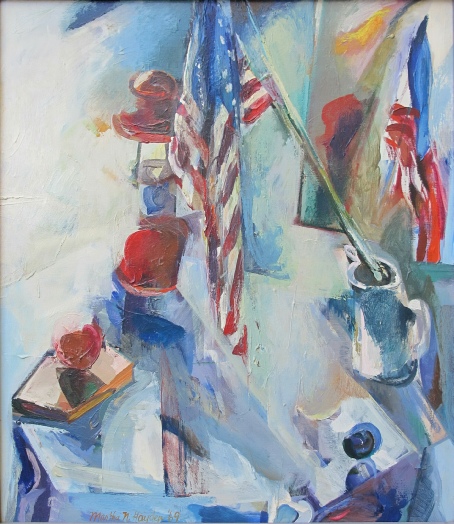 What is it? A flag on a table reflected in a mirror? A composition in blue with red accents? A space created by diagonal lines? A space stabilized with verticals? Paint! Geometry and emotion taking turns. I want a big monumental space that draws the viewer in. The great paradox of painting is that it is both 2 and 3 dimensional, the illusion of space and the reality of surface, are the first great original tensions in painting.

Still Life with Bags, 1973, oil on linen, 38 x 42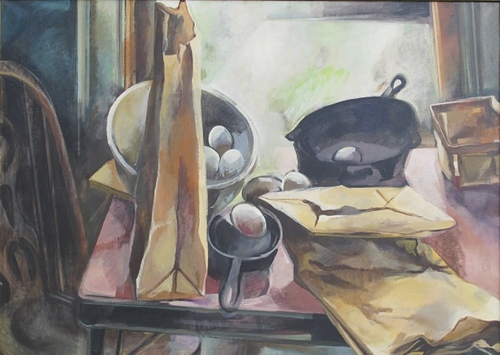 Space is the most important issue for me. By "space," I don't mean merely a sense of depth, but the relatedness of planes, the sense of volume, the sense of space between volumes. The two paper bags, the right one leading in and the left one stabilizing the surface, set up the movement here. This is played against the round shapes, large and small, which move between them. There are positive volumes (eggs), contrasted with negative volumes (bowls), and the volume of the air which hovers between. The palette is limited, but there is great variety within this limitation.

Still Life, 2012, oil on linen, 34 x 40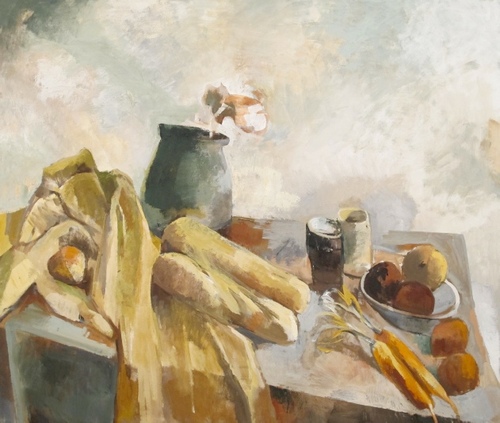 Because I am interested in "seeing" and that interest requires a constant, I measure the "real" world. This painting is a complex series of diagonals and triangles, balanced by the black pot and the thrust of the flower. The palette is limited, but because of this restriction, the viewer can become aware of a great variety of color.





---
The Art of Martha Hayden By Linda Godfrey At the Lake, winter 2001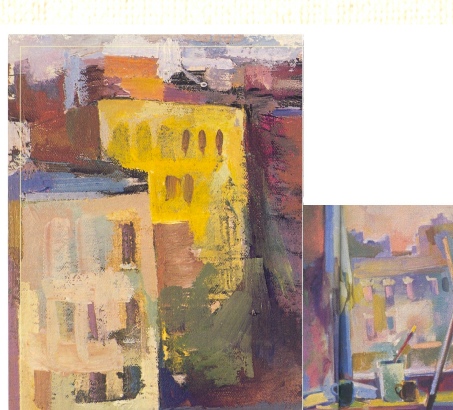 Martha Hayden speaks softly, but she carries a big paintbrush. Not such a heavy one, though, that it can't be toted back and forth to New York City. For the past six years, this Sharon artist, known for her quiet demeanor and vivacious oil paintings, has divided her time between her longtime home in Walworth County and a studio on the lower east side of Manhattan. Spending winters amid New York's hectic art scene and summers in landscape-laden Wisconsin has given her the better of two worlds, Hayden says.
Locally, many people know Hayden's name through the painting classes she taught here for three decades, as well as through her annual open house in Sharon and frequent exhibits in area galleries. But few may realize just how far-flung Hayden's reputation has become in the national art world. "When I go to downtown Sharon," Hayden remarks, laughing in her quiet way, "People will ask, 'Are you still doing that artwork?' as if they were saying, 'Have you been crocheting lately?'"
The truth is that Hayden, who once studied with famed Expressionist painter Oskar Kokoschka in Austria, has had a one-woman show at the Reggio Gallery in New York City and continues to earn awards in myriad exhibits from the Art Institute of Chicago to the Mendocino Art Center in California.
But wherever she is working, the artist stays focused on her personal vision. "I am a child of Cezanne," explains Hayden, who swabs landscapes, figures, and still lifes with the same sort of energetic brushwork as that famous Impressionist, "and I want to paint in that still unexplored and magical area where Expressionism and Cubism merge."
To art lovers, the rambling old house where Hayden raised her nine children in Sharon is also a magical place. The children are now grown and scattered about the country with their own careers, so the 1870's Victorian at the edge of town serves the artist as both workshop and summer retreat. Her bright canvases play lavishly off the white walls and original, dark woodwork; while a soaring second-floor studio offers a flood of the natural light artists covet. She shares this setting with art aficionados for one weekend each fall, when she turns the entire house into a temporary gallery.
Hayden—her red hair cascading in a long ponytail down her back and wearing a simple shirt and slacks—appears everybit the serious artist that she is. A youthful 65, she answers questions in a thoughtful, measured way that reveals the intense focus she has always placed on her art. Considering the stature her paintings have begun to achieve, it's ironic that when Hayden began her art studies, she didn't feel she had a gift for drawing.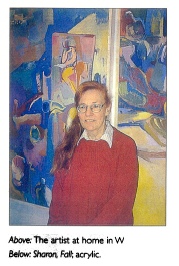 Turning to Art
Born in Evanston, Illinois, Martha Hayden was always drawn to the arts, despite her supposed lack of drawing ability. So she started as an art major at Bradley University in Peoria and centered her hopes on clay. After two years, she transferred to the School of the Art Institute of Chicago (SAIC) for more advanced ceramic studies.
"But then I started seeing that others were being taught to drawn and paint," she explains. Hayden decided she could learn, too. She converted to painting, attending SAIC on and off until she earned her fine arts degree in 1961. That same year, she also snagged a prestigious fellowship to study with the renowned painter Kokoschka at his Schule des Sehens in Salzburg. By then, she had married another artist, and had two small children, so her young family trooped off to Austria with her.
It was a year of intense work, Hayden remembers, with days spent drawing and painting figure studies in 20-minute sessions. "We would finish one, throw it down behind us, and keep going," she
said. At the end of the day, the students would pick out the pieces they liked from the pile, pin them to the front of their boards, and wait for the great master to make his rounds. "He would only look at things that affected him," Hayden recalls. "If he liked the first piece, he would look at the one underneath, and if he kept going to look at five or six, that was really good. There were people who were never critiqued" she added, "Because their work didn't interest him."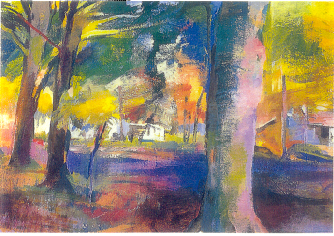 Hayden was not part of that group, however, and at the end of the year, she won the Oskar Kokoschka
award.
Kokoschka was in his mid 70's then, but his words still stick with Hayden. "What I remember him saying is, 'This moment, this thing we see, will never be repeated, unless you get it down for others to see.'"
In 1962, Hayden and her young family returned to the United States. Instead of living in Chicago, they moved to Sharon. "That released the financial pressure and make time to paint," Hayden says. Actually, she and her husband had purchased their Victorian home in Sharon before going to Austria. The property was a true "fixer-upper" having been abandoned after a foreclosure. "We came out and put the windows on it (they had all been broken), put our paintings and a few furniture pieces inside, and locked it up," recalls Hayden. "When we got back from Austria, it was all still here."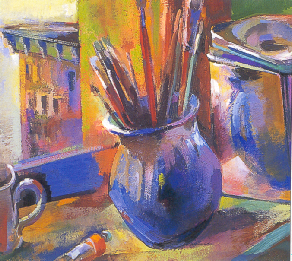 The Haydens settled into small town life, Martha serving as a 4-H leader among other family projects. By the late 1960's she was putting together one-woman shows at places such as Mount Mary College, Milwaukee, and the Chicago Public Library. She began offering painting classes one to three times a week in 1965, leading her group of 10 to 20 students around nearby lakes, fields, and Main Streets to paint in the open air whenever possible. The classes ended in '95, but the class members are still her friends, she says, and they still meet to paint once a week by themselves.

In 1988, Hayden found herself recently divorced and heading to the Vermont Studio Colony in Johnson, Vermont to begin a painting residency. "The Vermont Colony was a great thing for me, " she says. "I hadn't been together with a group of working, professional painters like that before. I was very excited by that and also I saw that I measured up to them, which I hadn't known about myself. It was eye-opening, and make me think I could still go to a place like New York, that I wasn't too far behind."
Painting the Big Apple Vermillion
In 1994, the artist finally rented a studio on East Second Street in the Big Apple and turned her stash of paintings into a truly moveable feast. Although she ships paintings back and forth according to gallery and show requirements, she now has a complete set of art supplies in both her New York and Wisconsin studios so she can travel light. "I brought it all by van in the beginning," she says, "but now I don't drive (to New York. You don't really need a car in the city."
Hayden heads to New York every October and spends half the year there, aside from popping home for a Christmas reunion with her family. She returns to Sharon each May for a summer respite from city streets. She has maintained the same Manhattan studio for six years, but rents a different apartment every fall. This year he address lies in Brooklyn.
"I get a lot more paintings done in New York, and I'm not exactly sure why." Hayden muses. Of course, during summers in Wisconsin, she builds all the sturdy wood frames that accent her paintings. She also travels to many art shows in the warm months and tackles upkeep on a 120-year-old house. Still, she usually finds time to finish a pile of Wisconsin landscapes.
Hayden's New York studio occupies the top floor of a six-story building, overlooking the five-story 19th-century tenements around it. From her windows, she enjoys inspiring view of the Williamsburg, Manhattan, and Brooklyn bridges, as well as a fire station next door where the firefighters play badminton on the roof.
Inspiration continues at street level. "I like walking around the city, looking at buildings," Hayden says. "I'm always falling over things because I'm always looking up. I like the excitement of getting on the subway and zooming off. Also, the city never shuts down. It goes all night and you can keep very odd hours if you like. There are always people on the streets. People think it's very dangerous, but it's not.
Hayden thrives in the super-charged atmosphere. "Seeing great things helps me want to work," she says. "I like to go to the Met (Metropolitan Museum of Art) at 9 in the morning and then come back and paint."
The artist also finds time for a social life, and she enjoys meeting with other painters. "I have good friends (in New York), and people that I can really talk about the work with, who like my work and I like theirs….New York is not all avant-garde. There are many different ways of thinking going on there." With all that variety, Hayden has been able to find acceptance for her stubbornly expressionistic style.
What people generally like about my work is the color, but I've never thought of the color as being the point of the painting." Hayden continues. "What makes my painting new and different is the way I handle the forms and composition."
Although her bright, visceral colors and eye-grabbing spatial relationships almost force an emotional reaction, each painting balances on an intellectual underpinning. "In themselves, my subjects are not important," Hayden explains, "Is am concerned with painting a s a formal problem. I ask questions. Is there such a thing as perspective, or is there another kind of relationship between near and far? My subjects…are more than still life and landscape; they are comments on thinking and seeing."
Some artists take photos to create a reference for all the elements that should appear in a scene. Hayden takes photos to know what not to paint. "I'm not interested in a photographic vision anyway," she notes. "I see (the scene as) a painter would. You pick out certain things, and your mind edits out what you don't want in there." When painting, she eliminates the distractions that prevent others from seeing as she does.
Before Hayden went to New York, her landscapes and still lifes treated outdoor and indoor views as separate subjects. The windows of her city studio changed that. "At first I painted out of the windows, and now I'm painting the view out the window combined with the things that are inside." The result, she says is an almost impossible challenge in mechanical perspective.
Surprising Oneself
For Hayden, painting is a never-ending source of wonder and learning. "You need to keep surprising yourself if you ever hope to surprise someone else," she offers. She admits that can be difficult sometimes. "But you have to keep working even if it's mundane because nothing will ever happen if you're not working. It's the fluidity of painting that's so wonderful, the fact that it does morph into other things somehow."
"Making things happen" is one reason Hayden goes to New York. Another is to gain recognition for her art beyond local showings. "You want some acceptance that the work is good: you want other people to agree to that. You don't want to be the only who thinks (it is)." Yet, Hayden is careful to separate those immediate accolades from the tougher goal of becoming noteworthy over the long haul.
"How you get the work validated is really not within your control," she explains. "You can go to school, be in exhibits, sell your work, and do all these things which make a career, and become 'successful.' For me, being successful is being able to support myself and do what I want to do. But there's no way you can ensure the work will be looked at in the future. And that, of course, is ultimate success, which goes to very few people."
Critics have accused her of being stuck in the first half of the last century, as far as art movements go. But Hayden doesn't see that as a negative. She believes the past still has places to explore. "I don't think of it as going back; I think of it as picking up one of the branches of the family tree of art and carrying it forward."
Now that she's had a taste of life in paintings fast lane, it has occurred to Hayden that he career might have been jump-started had she moved eastward sooner." Many times I wish I would have gone to New York when I was young," she admits. "If I had, I'd have much more recognition today. But Wisconsin is a good place to raise children, and it feeds your soul to be where things are green and growing and beautiful, too. We moved here because we thought it would be a good place to live, and it has been. And who knows, if I hadn't had this, maybe I'd be looking for a house in country about now."
Linda Godfrey is a writer and artist who make her home near Elkhorn.